Press Contact: Megan Stone
megan.stone@theatreroyal.com
19 October 2023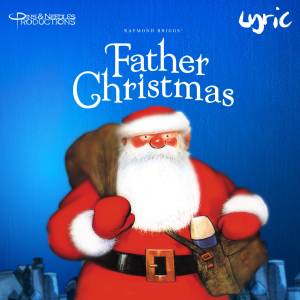 Theatre Royal Plymouth to present Raymond Briggs' Father Christmas, a production for younger children and their grown-ups, in The Drum for the forthcoming festive season
This winter, Theatre Royal Plymouth presents and produces the Lyric Hammersmith Theatre and Pins and Needles production of Raymond Briggs' Father Christmas, adapted by Pins and Needles, in The Drum as TRP's 2023 festive children's show.
Running from 23 November – 31 December, this magical and award-winning production is directed by Emma Earle and is based on the beloved picture book by Raymond Briggs.  This gloriously festive production promises live music, adorable puppets, reindeers and of course, Father Christmas himself.
Join Santa as he awakes from a dream of sun, sea and sand only to find it is the busiest day of the year: Christmas Eve. 
Watch as he prepares for his Christmas deliveries, feeds his reindeer and finally takes flight into the snowy night.
Liz King, Executive Director, Producing & Programming at TRP said: "We're committed to building a festive offer at TRP, across all our stages, that deliver world-class theatre for all ages. We're delighted to be producing and presenting the Lyric Hammersmith's wonderful production in a brand-new replica of the much loved show that has been built by our talented team at TR2, our Production and Learning Centre."
Company Includes:
Nathan Masterson
"I am incredibly excited to be a part of this magical production! I can't wait to get started and I ho-ho-hope everyone enjoys the show!"
Nathan's credits include: Smee in Peter Pan (Astor Theatre, Deal), Gobbo in The Merchant of Venice and Slender in The Merry Wives of Windsor (Cambridge Shakespeare Festival), Touchstone in As You Like It (Chapterhouse Theatre Company), Absolon in The Canterbury Tales (Distraction Theatre Company), and Father Christmas for The Polar Express, Okehampton.
Stacey Ghent
Stacey is a hard of hearing actress, born and raised in South Shields, Tyne and Wear. Since living and working as an actress, musician and vocalist in London, she has trained with 'The Actors Class'.
She is so excited to be working with Father Christmas again, this time showing all of the boys and girls of Plymouth just how hard he works on Christmas Eve – those pressies won't deliver themselves, will they?!
Stacey's credits include:
Teacher of the Deaf: Coronation Street (ITV); Nurse Morris: Breathless (ITV); Shrink: Season 1 (Auteur Vision); Stages of a Girls' Night In… (BuzzFeed/McVities). Miranda: Blonde Bombshells of 1943 (Octagon Bolton/Theatre by the Lake, Keswick/Stephen Joseph, Scarborough); Swimmer: When The Long Trick's Over (Morgan Lloyd-Malcom/High Tide); Multi-role: We Are The Best (Live Theatre, Newcastle); Queen Victoria: Sophia (Beverley Andrews/Arcola Theatre); Bette/Miles Hendon/Music Captain: The Prince and the Pauper (Watermill Theatre); Patricia Fodor/Dance Captain: Crazy For You (UK No1 Tour); Alice/Dance Captain: Sweet
Charity (Watermill Theatre); Mrs Simpson: Tommy (UK Tour); A Great Night Out (Wild Works). Bartholomew Abominations (BBC Radio 4); Young Writers' Programme (BBC Sounds & Naked Productions); New Creatives Programmes (BBC Sounds & Naked Productions); Shades of Grey (Spark Radio). Vocalist: Hannah Waddingham & Her Band (St. James Theatre); Christmas in New York (Palace Theatre, London); Sondheim Women (St. James Theatre).
Amber-Rose Perry
"I'm thrilled to be joining the cast of Father Christmas at Theatre Royal Plymouth this year and am excited to bring the puppets of a childhood Christmas story I loved to life for a new generation!"
An actor and puppeteer for TV, film and theatre, Amber-Rose trained at East 15 Acting School on the BA Physical Theatre Course and at The Curious School of Puppetry. Alongside her performance work she is also the co-artistic director of Moth Theatre.
Her performance credits include: Lead Puppeteer in Series 1, 2 and 3 of His Dark Materials (BBC/HBO); Puppeteer in The Hatchling (Trigger Stuff/Mervyn Millar); Lead Borb Puppeteer/Stevil in The Last Bus (NETFLIX); Puppetry Captain/Lead Puppeteer in The Third Day (Sky Atlantic/HBO); Puppeteer in The Very Hungry Caterpillar (MEI Theatrical); Puppeteer in When Seagulls Saved the World (Brave Biscuit Studios); Puppetry Captain/Puppeteer in BATARI (Bath Carnival/Hannah Southfield) and most recently Puppeteer in Dragons and Mythical Beasts (Nicoll Entertainment/Derek Bond & Laura Cubitt).
Emma Earle, Director 
Theatre credits includes: Alice in Wonderland (Mercury Theatre); Father Christmas (Lyric Hammersmith); Adventures in Wonderland (The Vaults and Shanghai); The Bear (Midlands Arts Centre); OZ (Tobacco Factory Theatres); Oi Frog & Friends! (Lyric, West End); Select A Quest (online); Mr Popper's Penguins (Criterion, West End and New Victory New York); Flies (Pleasance, Edinburgh); The Scarlet Pimpernel (Theatre Royal Bath); Dinner at the Twits (The Vaults); Little Mermaid (the egg); The Fantastical Flying Exploratory Laboratory (GDIF); Scoop (Latitude); The Marvellous Imaginary Menagerie (Latitude); Holly and Ivan's Christmas Adventure (Lyric Hammersmith); Ernest and the Pale Moon (Pleasance Edinburgh); Twelfth Night (Bristol Old Vic Theatre School); Gizmo Love (Tobacco Factory); Elves and the Shoemakers (Tobacco Factory); The Shape of Things (Ustinov Studio); Yer Tis (the egg); Glengarry Glen Ross (Ustinov Studio); The Grapes of Wrath (the egg); Pavement (Alma Theatre); Riot (the egg); A Clockwork Orange (Alma Theatre). 
This show is now on sale, and tickets can be purchased from the TRP website – https://theatreroyal.com/whats-on/father-christmas/#book