About Us
The Technical Department at Theatre Royal Plymouth (TRP) is responsible for the safe staging of productions across all our performance spaces. In house we run The Lyric, The Drum and The Lab while we also support touring and external productions.
Within Technical we have Lighting, Sound, Stage and Wardrobe departments which provide the technical support required to bring alive vibrant shows across the full spectrum of modern theatre. We host international ballet and opera companies, large scale musicals, through to intimate drama and our own 'in house' community productions. Our audience is our customer and the technical standards of the productions we stage must always be high-quality.
Harman Technical Residency
What is the Harman Technical Residency?
We know how difficult it is to build up a good CV in the theatre industry…. if you have limited practical experience it can be hard to get your foot in the door, but how can you ever gain that practical experience? TRP are keen to offer an opportunity to gain real life theatre experience that will cement a passion for theatre and establish a high-quality approach to work that will support a lifelong career around the world.
To provide valuable career pathways, networking and training within the UK theatre sector, we wish to offer an 18-month Harman Technical Residency.  You will work within our established, well respected and experienced TRP technical team. The residency will not only provide valuable training focussed on existing skills but will also offer mentoring to help you to enter the technical theatre profession.
We are looking for applicants across the South West and wider UK
This is a full-time residency for which you will be paid the Real Living Wage
We can offer support for relocation and accommodation
You will work on a variety of productions in the region's largest receiving and producing theatre. The productions will vary in scale and genre from solo shows, community work and developmental work to large scale productions such as Matthew Bourne's work, Welsh National Opera and Birmingham Royal Ballet
You will have opportunities to build industry connections through visiting companies as well as attendance at industry events such as the ABTT conference
We will support you with regular monitoring from a TRP mentor (member of permanent staff)
There will be regular evaluation, at senior leadership level, and flexible learning to ensure a bespoke and mutually beneficial experience at TRP. This has to work for you.
We want you to develop vital technical skills to enhance your employability and give you professional development appropriate for an early-career technical theatre worker
The exact tasks undertaken will be bespoke to the skills, knowledge and experience you bring – you will have basic industry skills/formal training, but not necessarily the experience required to flourish in the industry. Whilst TRP has collaborated with partners for many years on work experience placements, the very specific technical nature of working backstage requires these residencies to mutually benefit the individual and TRP.
As part of our staff team, the individuals supported by this project, will be linked to a wider (UK-wide) technical theatre network. It is hoped that this project will develop a way of working that can be a template across our network of industry peers and collaborators.
Why Harman residency?
Andy Harman  was a valued member of TRP's backstage team for over 16 years. As Lighting Technician, he was responsible for all activity related to the 'Get In/Outs' of productions, supporting new members of staff to settle in, having a creative input in production meetings, and ensuring health and safety compliance backstage. Sadly, in September 2021, Andy lost his life and everyone who worked at TRP – and his wider theatre sector colleagues – were devastated. Andy played a key role in developing and supporting younger and/or less experienced members of the TRP technical team and was a shining example of hard work and the skills, knowledge and experience required to shine within a technical team.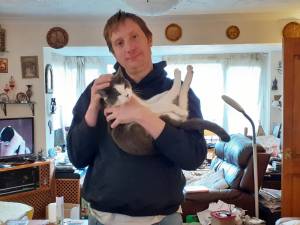 "Andy was extremely hard working and had a real passion for theatre – caring deeply about his colleagues. He was generous with sharing his skills and knowledge, which he has built up through touring the UK with TRP productions and supporting shows at the Edinburgh Fringe Festival. His broad set of technical skills, extensive experience and desire to help others, are why the Harman Technical Residencies are vital in supporting the arts – not just in Plymouth, but on a national scale."
Matt Hoyle, Head of Technical, TRP 2022
How to apply
If you would like to talk to someone about this opportunity, have any queries or would further information then please email recruitment@theatreroyal.com to arrange a call/zoom.
If you would like to apply, please upload a letter or a video message telling us a bit about yourself, what skills you already have and why you think you would benefit from the residency.
We hope to appoint our first residency in Autumn 2022.  There will be a second residency available in Spring 2023.
These residencies are made possible with the kind support of The Backstage Trust.